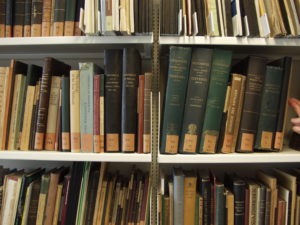 Generally comprehensible books on geoscientific topics can be studied in the Library of the National- and University Library of Bremen. One area on the first floor of the National- and University Library a comprehensive section on geosciences can be found that is available for amateur geologists that are not members of the university. For scientific work the Geosciences Collection provided various books, articles in periodicals and reprints.
Library of the Geosciences Collection
A fixed part of the Geosciences Collection is its library that almost exclusively consists of scientific papers. The access to the library for scientific purposes is possible with an appointment. The major part of the collection of books has been removed from library of the Überseemuseum Bremen, when the geosciences have been moved to the University of Bremen in 1996. Particularly, the palaeontological publications are important and include antiquariatic valuable books of Frass, Quenstedt and Walcott. A further main area are malacozoological books, e.g. publications by Philippi and Reeve. Furthermore, many serials of periodicals are a part of the library, especially the "Journal de Conchyliologie", the " Malakozoologische Blätter" and the "Proceedings of the Malacological Society of London". A part of the articles of the serials of periodicals are recorded in a data base.
Periodical
Volume
Year
[Archiv für Molluskenkunde] Nachrichtenblatt der
deutschen Malakozoologischen Gesellschaft
1-52
1869-1919
Archiv für Molluskenkunde (als Nachrichtenblatt
der deutschen Malakozoologischen Gesellschaft)
53-123
1921-1994
Abhandlungen des Naturwissenschaftlichen Vereins
zu Bremen
34-44
1957-1998
Abhandlungen des Hessischen Landesamtes für Bodenforschung
2-76
1954-1977
Abhandlungen der Preußischen Geologischen Landesanstalt
97-190
1925-1939
Basteria
1-48
1936-1984
Beihefte zum Geologischen Jahrbuch
1-125
1951-1971
Boletim do Museu Nacional Rio de Janeiro
1-36
1943-1971
Decheniana (Verhandlungen des Naturhistorischen
Vereins des Rheinlandes und Westfalens)
111-117
1958-1964
Eiszeitalter und Gegenwart (Jahrbuch der Deutschen
Quartärvereinigung)
32-48
1982-1998
Fortschritte in der Geologie von Rheinland und
Westfalen
4-33
1959-1985
Geologisches Jahrbuch
64-90
1943-1972
Geologisches Jahrbuch Reihe A
1-140
1972-1994
Geologisches Jahrbuch Reihe B
1-58
1972-1985
Geologisches Jahrbuch Reihe C
1-56
1972-1990
Geologisches Jahrbuch Reihe E
1-50
1973-1993
Geologisches Jahrbuch Reihe F
4-15
1977-1983
Notizblatt des hessischen Landesamtes für Bodenforschung
zu Wiesbaden
1-103
1950-1975
Geologisches Jahrbuch Hessen
104-115
1976-1987
Geologica Bavarica
17-83
1953-1982
Geologische Rundschau
45-87
1956-1999
Jahrbuch der Preußischen Geologischen Landesanstalt
zu Berlin
49-59
1928-1938
Jahrbuch der Reichsstelle für Bodenforschung
60-61
1939-1940
Jahrbücher der Deutschen Malakozoologischen Gesellschaft
1-14
1874-1887
Conchilogische Mittheilungen
1-2
1881-1885
Jahreshefte des Geologischen Landesamtes
17-26
1975-1984
Jahresbericht des Niedersächsischen geologischen
Vereins
1-29
1909-1938
Bericht der Naturhistorischen Gesellschaft zu Hannover
119-128
1975-1985
Beiheft zum Bericht der Naturhistorischen Gesellschaft
zu Hannover
9
1986
Jahresberichte und Mitteilungen des Oberrheinischen
Geologischen Vereines
37-84
1955-2002
Journal de Conchyliologie
1-104
1850-1964
Mainzer geowissenschaftliche Mitteilungen
1-27
1972-1998
Malacologia (International Journal of Malacology)
1-12
1962-1973
Zeitschrift für Malakozoologie
3-10
1846-1853
Malakozoologische Blätter
1-14
1854-1867
Mitteilungen aus dem Geologischen Institut der
Technischen Hochschule Hannover
5-18
1967-1979
Nachrichten Deutsche Geologische Gesellschaft
1-71
1970-1999
Senkenbergiana Lethaea
35-74
1955-1994
Natura Bresciana
24-28
1987-1992
Paläontologische Zeitschrift
48-74
1974-2000
Proceedings of the Malacological Society of London
1-34
1894-1960
Universidad Nacional de la Plata
1948-1993
Smithsonian Contributions to Paleobiology
1-81
1969-1995
Smithsonian Contributions to Earth Sciences
1-35
1969-1993
The University of Kansas Paleontological Contributions
1964-1994
Transactions of the Royal Society of New Zealand
2-7
1963-1970
Untersuchungen über Angebot und Nachfrage mineralischer
Rohstoffe
6-17
1975-1982
VestnÍk Ústredního ústavu
geologického
1953-1971
Zeitschrift der Deutschen Geologischen Gesellschaft
108-150
1956-1999
Library of the head of the collection
The library of the head of the collection is available upon request like the library of the collection. It contains articles and books on various aspects of the Cretaceous period, including palaeontology, palaeogeography, sedimentology, geochemistry and geophysics. Currently, a total number of almost 16000 single citations are covered by a data base, in particular the palaeontology of Cretaceous Ammonoids is easy and fast accessible through a comprehensive subject catalogue.
Contact: Prof. Dr. Jens Lehmann