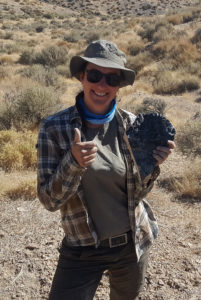 Contact:
Geosciences Collection
University of Bremen – Faculty 5 (Geosciences)
Building MARUM, Room 0030
Leobener Strasse 8
28359 Bremen
Germany
Tel.: +49-(0)421-218-65692
bischof@uni-bremen.de
GLOMAR Webpage
I am employed as a Ph.D. student at the Geosciences Collection of the University of Bremen (GSUB) since July 2017. The main focus of my studies lies on the DFG-project "The Anisian (Middle Triassic) Ammonoids of Nevada – An Integrated Approach to understand Morphological Change". Thereby my particular interest is the investigation of the predator-prey relationships during the Anisian Mesozoic Marine Revolution (MMR). This project is the result of a cooperation of the Universities of Bremen and Bonn and the LA County Museum in Los Angeles.
In July/August 2017, we performed the first five-week long field session in the desert of Nevada, USA. At preselected outcrops in the Humboldt Range and the Augusta Mountains we each measured one lithostratigraphic section and collected fossil material and rock samples. The latter two form the basis for all further investigations. Whereas the group of the Geosciences Collection analyzes the morphologic changes of ammomoids and the stratigraphy of the localities, the team from the University of Bonn and the LA County Museum describes the ichthyosaurs (marine reptiles) of this stage. The linking of the findings about both groups of animals is expected to reveal important insight into the evolution of ammonoids.
CV
Since 2017: Ph.D. student, Paleontology, Geosciences Collection, University of Bremen, Germany.
2014-2017: MSc in Earth Sciences – special subject Earth and Life Evolution, department of geosciences, University of Fribourg, Switzerland.
2011-2014: BSc in Erdwissenschaften, Institute of Geological Sciences, University of Bern, Switzerland.
Publications:
Bischof, E. A., Schlüter, N., Korn, D., and Lehmann, J., 2021. Ontogeny of highly variable ceratitid ammonoids from the Anisian (Middle Triassic) – PeerJ 9:e10931. 10.7717/peerj.10931
Bischof, E. A., Lehmann, J., 2020. Ontogenetic analysis of Anisian (Middle Triassic) ptychitid ammonoids from Nevada, USA. – Journal of Paleontology 94, 829-851. DOI: 10.1017/jpa.2020.25
Bischof, E. A., Hostettler, B. & Menkveld-Gfeller, U., 2018. The Cidaroids from the middle Oxfordian St-Ursanne Formation of the Swiss Jura Mountains. Revue de Paléobiologie 37(1),1-27.
Public Understanding of Science
Within the project "Science for the living room" I gave a lecture (in german) about my research on ammonoids.
Link to Youtube: Gewinner*Innen des grössten Massenaussterbens der Erdgeschichte. Echt jetzt?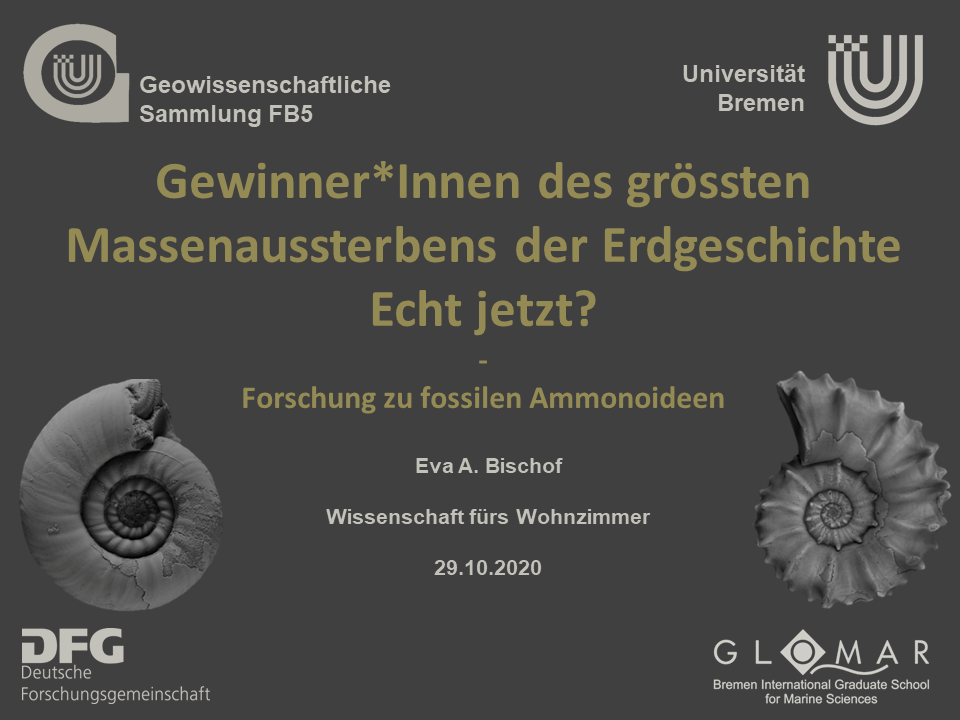 As well as the presentation of my research topic as SketchNote